Zebra Precision Air Valves
Precision Air Valves
Warren's breakthrough design in air flow throttling control offers superior acoustical, laminar flow and controllability characteristics. The Zebra® precision air valve may be used to regulate or balance airflow in ducted HVAC systems, air handling units, economizer sections, outside air intakes, or VAV applications. The Zebra® air valve assembly is compact and modular for easy installation and service, and can be mounted in almost any ducted system. Structural integrity of the Zebra® air valve is enhanced by the pleated accordion design and integral heavy gauge frame construction.
The effects of stratification have long been a concern to mechanical systems designers and building engineers. The Zebra® precision air valve offers laminar airflow throughout its entire throttling range. This ensures even air distribution over the entire cross-sectional area of the heating coil and/or supply duct.
The Zebra® precision air valve's patented slide plates and direct-drive actuator mechanism provide precise throttling control. Due to its linear stroke and tight drive mechanism, Zebra®'s slide plate design dramatically reduces linkage hysteresis and slide loading commonly found in conventional dampers. The actuator stroke (travel) is linear with its free area opening which provides more accurate control at low flows.
Noise attenuation is accomplished by the use of an array of evenly distributed precision orifices. This pattern creates a "muffler effect" that produces higher frequency noise as opposed to lower frequency noise associated with conventional dampers, which is very difficult to attenuate. The Zebra®'s design is inherently quieter than single or opposed blade damper configurations.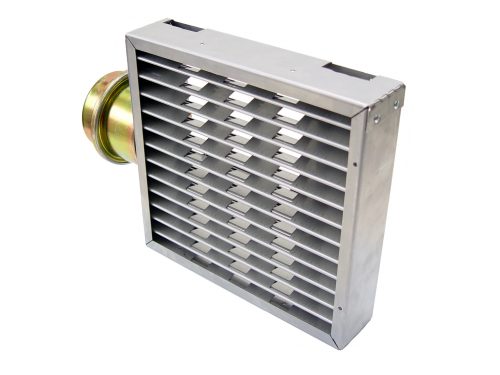 Key Benefits
Flexible Design
Laminar Airflow
Precise Linear Control
Quiet Operation