UNI•VAV
Individual Room Comfort System
The UNI•VAV® individual room comfort system is an advanced variable air volume (VAV) air management system which may be applied to any type of new or existing ducted central air conditioning system. By utilizing individual Leopard Intellivent® VAV diffusers in every room of a building, the UNI•VAV® system enhances occupant comfort, improves indoor air quality, and increases energy savings. This is accomplished by providing individual room temperature control with energy-saving efficiency.
Ease of installation, system design flexibility, and limitless expandability are features that make UNI•VAV® a cost-effective, user-friendly integrated air distribution system designed to meet the changing needs of today's office environments. Components of the individual room comfort system can be easily relocated and expanded to adapt to the changing dynamics of today's office buildings.
Components of the system include the following: Leopard Intellivent® personal VAV diffusers, Valid Air® high-performance diffusers, Quiet Plus® VAV terminal units,Zebra® precision air valves, CBK Electric Duct Heaters and the UNI•GUARD™high efficiency individual room air filtration system.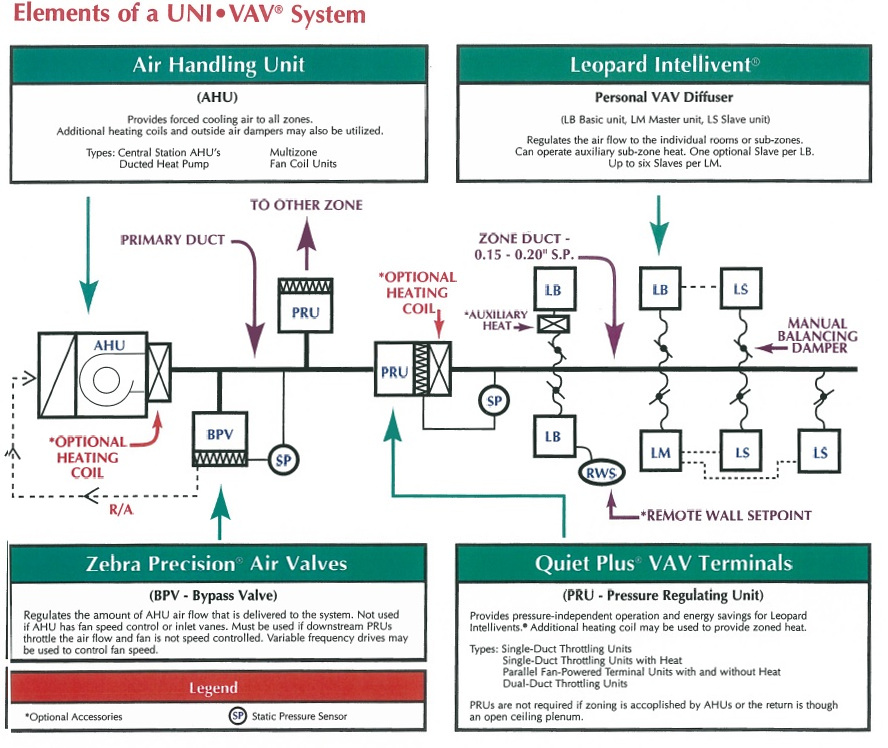 Key Benefits
Improved Health and Indoor Air Quality
Increased Occupant Comfort and Productivity
Substantial Energy Savings
Lower Maintenance Costs
Post Construction Flexibility